Oct
23 2012
High Stakes for Women Around the World
---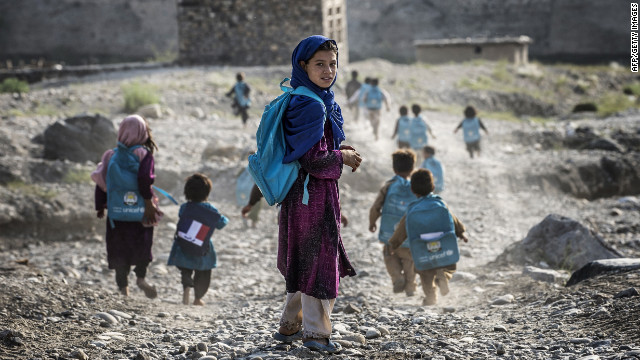 When I was a kid, I sometimes got made fun of on the bus. I think pretty much everyone did. It was never anything extreme, but I knew that on the bus it was best to keep quiet and try not to get noticed. But the stakes are much higher for girls in Afghanistan:
"The walk from home to school is—and has always been—the most dangerous part," Arbabzadah said. "You are told to stay covered, keep your head down and walk quickly … and stare at your toes." … Some girls have been maimed by acid attacks. Others have had their drinking water poisoned or been targeted by bombers who think females should be forbidden from school — as they were during the Taliban's rule.
It's even more jarring when you realize just how lucky these girls are. Many girls around the world die before they even have the chance to go to school (or be forbidden from going to school). Patheos explains:
She killed eight of her newborn daughters, in fact, and can lead you to the tree-shaded plot of ground where she has buried all of them. … This woman is not unusual in her Indian village. She and her neighbors explain through a strange kind of laughter the myriad ways that they have dispatched their female children. … It's estimated that as many as 200 million girls are missing from the world's population due to the practice of gendercide, the culturally-based killing of a child (overwhelmingly female) on the basis of its sex.
But change is happening to empower women around the world.
1) The documentary It's a Girl sheds light on gendercide around the world. "The film tells the stories of abandoned and trafficked girls, of women who suffer extreme dowry-related violence, of brave mothers fighting to save their daughters' lives, and of other mothers who would kill for a son. Global experts and grassroots activists put the stories in context and advocate different paths towards change, while collectively lamenting the lack of any truly effective action against this injustice." Watch the trailer:
2) There's progress in Afghan schools and solutions that are within reach:
"The overall education of girls in Afghanistan is a great success story," said Christine Roehrs, spokeswoman for Save the Children in Afghanistan. "Basically, you didn't have girls educated in 2001. And now we have 3 million girls in school."

…

"In Afghan culture, parents don't consider it appropriate for girls to be educated by a man," Roehrs said. "There is a high dropout rate of young girls after the early grades because there are not enough female teachers. So the secret of getting and keeping girls in school is to get more female teachers."
3) You can help. Half the Sky lists places where you can volunteer to help empower women.
Learn about ethical fashion.
Shop products made by survivors of human trafficking.
Be a part of the solution: Be part of Stop Traffick Fashion.
---
Melissa loves merging her passions for writing and for helping provide restoration for exploited people. She graduated from Miami University with a degree in Adolescent English Education and is a former middle school language arts teacher. She now works full time as an editor. Melissa has visited Freeset in Kolkata, India.
View all posts by: Melissa
---