Dec
11 2012
Think Before You Wear
---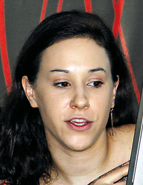 Young UK fashion designer Ada Zanditon shares this advice for environmentally ethical fashion: think before you wear. And the same idea applies to other realms of ethical fashion, including fashion that shuns human trafficking and forced labor. Read more from Ada below, and don't forget to use the Ethical Shopping Guide and our Ethical Christmas List on Pinterest to help you think before you shop this Christmas.
Ada hadn't begun to even consider ethical fashion design till she happened to read a paper written by a friend about the impact of fashion on the environment. It was, she admits, a revelation. "I realised that two things I loved doing the most were at odds against each other, and that they didn't have to be. I could combine my passion for fashion with my love for nature—it was a matter of finding inspiration from and sourcing the right materials."

…

"People look at a fur coat and say 'Oh I won't buy that because it's fur, and an animal was hurt during the process.' Why can't they look at cotton and synthetic materials the same way?" asks Ada. "I believe that it's really important for consumers to know what they're buying, the impact that it will cause on the environment and the alternatives available in the market. Designers need to start incorporating green ethics in to their creations-especially the younger ones who are still learning."
Learn about ethical fashion.
Shop products made by survivors of human trafficking.
Be a part of the solution: Be part of Stop Traffick Fashion.
---
Melissa loves merging her passions for writing and for helping provide restoration for exploited people. She graduated from Miami University with a degree in Adolescent English Education and is a former middle school language arts teacher. She now works full time as an editor. Melissa has visited Freeset in Kolkata, India.
View all posts by: Melissa
---