Feb
07 2013
Weathering the Cold with Ethical Fashion
---
Here are some scarves, hats, gloves, and other ethical fashion to get your through these shivery months.
I'll start with kids' stuff because it's the cutest.
Purple Veggie Hat from Green Babies
Flowery Pink Ear Warmer from Trade as One
Now scarves for grown ups:
Bamboo Infinity Scarf from Cariloha
Hand Woven Scarves from Seven Hopes United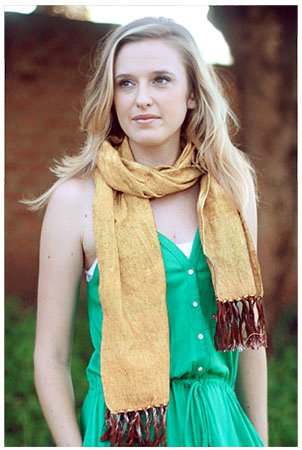 Alpaca Wool Hooded Scarf from Global Girlfriend
Ishingo Striped Scarf from Indego Africa
Alpaca Hand Loomed Scarf from Indigenous
And hats…
Selkie Hat from Greenola Style
And gloves…
Zelda Armwarmer from Greenola Style
Learn about ethical fashion.
Shop products made by survivors of human trafficking.
Be a part of the solution: Be part of Stop Traffick Fashion.
---
Melissa loves merging her passions for writing and for helping provide restoration for exploited people. She graduated from Miami University with a degree in Adolescent English Education and is a former middle school language arts teacher. She now works full time as an editor. Melissa has visited Freeset in Kolkata, India.
View all posts by: Melissa
---